Dzama (pronounced "zama") Rhum was started in 1980 by Mr. Lucien Fohine, half-Chinese – half Malagasy) and his Malagasy wife, on the island of nosy be off the northern shore of Madagascar. they had built a scotch whiskey bottling business, and decided that the resulting empty barrels would be perfect for the aging of rum. production was transferred to Antananarivo (the capital) when the success of the rums and the cost of transportation made it imperative by 1984. the company started out with two station wagons and two light trucks, now have 60 vehicles that cover the whole island of Madagascar. Dzama dominates 60% of the spirits market on the island. the population is 20 million.
Distinctive Characteristics 
• Lucien Fohine, the founder, discovered that rums made on Nosy Be Island (off the Northwest coast of Madagascar) have particularly distinctive aromas and flavors that show themselves consistently.
• The roots of the ylang-ylang vine and other aromatic plants such as vanilla, clove, citrus, pepper, and others entangle with those of the sugar cane.
• Ground water will also transport the essential oils of these plants to the cane fields.
• This super-sized reed being in effect a long column of water sucked out of the ground, contains the oils emanating from the surrounding aromatic plants.
• Molasses made from these will impart those flavor characteristics to the resulting rum that is distilled from it.
• The volcanic soil of nosy be contributes essential mineral elements that, combined with the above other terroir influences, make the rums of the island very difficult, if not impossible to duplicate elsewhere.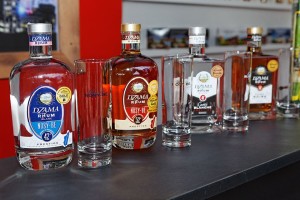 Production Notes 
Barrels — the barrels come from the Chivas Brothers Distillery. they may be oak of Spanish or American origin, and French limousin oak is used for some of their aged rums, the multiplicity of barrel origins adds complexity to the resulting rums.
Barrel Washing — in the case of the white rums, use of water laden with citrus fruits neutralizes the stronger flavors of the whiskey that has been emptied out to make room for the rum. this imparts subsequent citrus aromas and acidity to the whites.
Distillation — column still.
Additives — no artificial ingredients at all.
Bottling Lines — three; prestige and nosy be are bottled separately from the classic.
Water Filtration — five times — sand filter to remove impurities, solids; carbon to remove odors; cathanion to remove chemicals; cartouche to remove minerals; ultraviolet to kill germs.
Quality Control — meticulous. masks worn by everyone who enters the bottling plant. walls painted twice a year to avoid accumulation of mold, mildew. Hand inspection.
Photo of Dzama headquarters in Madagascar by Alfred Dauphin.